Millville, NJ – August 29, 2010 – After an exciting and challenging weekend of racing, rally driver Ramana Lagemann finished a creditable 4th place overall at the inaugural RallyCar U.S. Rallycross round held at New Jersey Motorsports Park.
Driving a 2008 Ford Fiesta run by the Swedish Olsbergs MSE team, Lagemann quickly adapted to the challenge of piloting the firebreathing 500 horsepower Rallycross machine. Despite no prior testing, and using just one set of used tires for the entire weekend, Lagemann managed to run with the top contenders throughout the event.
"This was certainly one of the most exciting experiences I've had behind the wheel of racing car in a long time!" recounts Lagemann. "It was a challenge to adapt so quickly, and though I am disappointed not to have finished on the podium, by the end of the weekend my cheeks were sore from grinning so much, and I'm pretty sure the thousands of fans in attendance felt the same!"
Lagemann's entry in the Rallycross was unexpected as the car became available only a few short days prior to the start. Hasty preparations commenced, and a few logistical issues aside, the biggest challenge facing the Dent Sport Garage supported team was the fact they were unable to source any new tires for the event. Rallycross courses are typically comprised of tarmac and gravel sections, and the races are sprints of less than 5 laps, so having tires that get up to temperature quickly and work well in varying conditions is paramount.
During practice sessions, Lagemann evaluated a tarmac rally tire as well as a road racing slick that had been custom grooved by the crew. Unfortunately, both options proved unsatisfactory, and Ramana's only remaining option was to utilize a set of used rallycross tires liberated from the back of the team trailer.
"Once we figured out our tire situation, we set about dialing in the car," explains Lagemann. "The NJMP course is much faster with longer corners than a typical European rallycross track, so we kept stiffening the chassis to suit it. However, we couldn't continually lap the course because we didn't want to burn up our only set of tires."
Considering their limited running, the team finished an impressive 3rd overall after the first heat race on Saturday, and had high hopes of improving their position. Luck would not be on their side on Sunday however, as the car suffered a series of minor problems that cut short testing and resulted in a DNF in the second heat. The team battled back however, and took a commanding win in the third heat, which placed the #74 Ford Fiesta third on the grid for the A Final.
In the race, Lagemann had a strong start and worked his way up to second place overall before it was red flagged due to fellow competitor Travis Pastrana going off course and knocking over several tire and water barriers. When the A Final restarted, Lagemann slotted in behind Ford teammate Tanner Foust. Almost immediately however, the rear bumper of the #74 Fiesta came loose and began rubbing on the right rear tire. "All of a sudden I saw smoke pouring off the back of the car, and though I realized pretty quickly it was due to tire rub, I lost focus for about half a lap," confesses Lagemann. "I was able to maintain a quick pace, but it was quite hot outside and by the fourth lap my tires just started sliding around too much and I lost two positions."
"I want to thank everyone who supported us this weekend, and especially the crew for their tireless work on the car," concludes Lagemann. "I hoped to bring home a podium finish for all of their efforts, but it just wasn't in the cards. Regardless, I know we accomplished a great deal, bearing in mind all of the challenges we faced."
The #74 team hopes to be back at the next round of the RallyCar US Rallycross series, but that will only be possible if additional sponsorship can be secured. Fortunately, Rallycross proved to be incredibly exciting with a spectator friendly format. With undeniable growth potential, plans are already in motion to improve all aspects of the series in upcoming events. Round 1 is set to air on ESPN2, check local listings for air times.
Photo credit: Neil McDaid/RallyWorldNews.com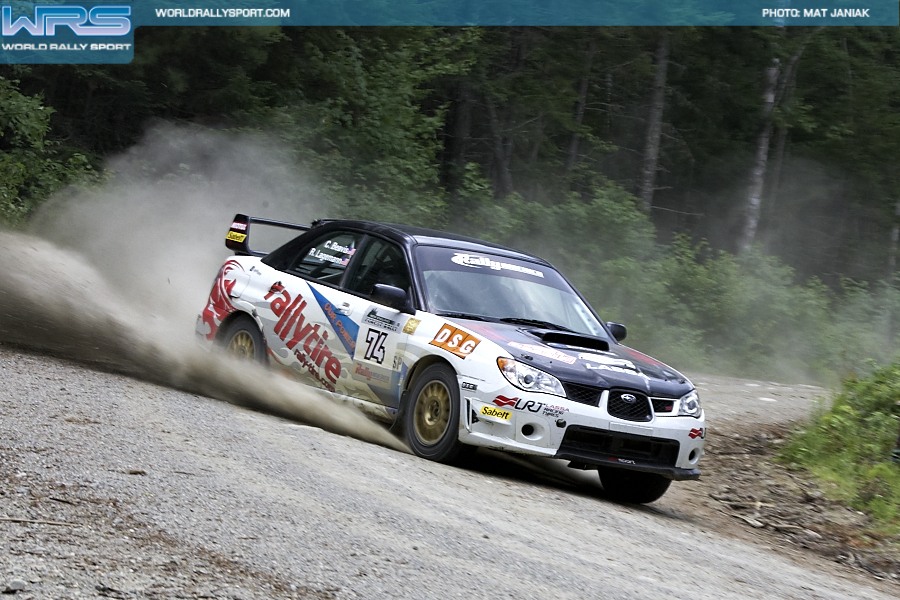 The 2010 Rally-America National Championship came to a close this weekend with another decisive win for the #74 team of Ramana Lagemann and Christine Beavis.
Piloting their Rally-Tire.com sponsored Super Production class Subaru WRX STi, Lagemann and Beavis drove quickly and consistently, finishing an unprecedented 2nd place overall, just 42 seconds behind newly crowned series champions Antoine L'Estage and Nathalie Richard.
Lagemann commented, "I am so proud of what we accomplished this season. All of the teams in Super Production are modestly funded, but we were able to run strong with truly minimal resources. In 4 events, we used just 6 sets of new tires! We didn't have one puncture all year. In fact, we ran with used tires through the first eight stages of this event. That is truly incredible and speaks volumes about the quality of Lassa Rally Tires."
Despite missing the opening two rounds of the series, the Dent Sport Garage supported team managed to take three class victories out of four events, including two overall podiums, placing the team 4th overall in the Rally America Championships, and 2nd in the Super Production class. "It's more than we expected, but being familiar with Ramana's skill and experience, I can't say that I'm surprised." says Beavis.
Lagemann, who returned to Rallying after nearly three years, showed the speed and skill that landed him a contract with Prodrive to represent Subaru Rally Team USA in 2002.
Teamed with seasoned co-driver Beavis, the crew was immediately up to speed, dominating Super Production, and even winning stages outright against more powerful and sophisticated Open class machinery.
Despite not competing in Open class, Lagemann is looking forward to driving a high horsepower rally car when he enters Rally America's Rallycross Series, set to kick off in late August. "Currently we're evaluating our options," explains Lagemann. "I think this will be really exciting for fans watching on event and at home on TV, so we are hopeful that the series will take off!" Round 1 of the Rally Cross series will take place at New Jersey Motorsports Park, August 27-29.
Rally Tire is based in Temple Hills, Maryland. The company imports, distributes and on-line retails various racing products suitable for stage rally competition such as, Lassa Racing Tyres, Arcasting Racing Wheels, Sabelt Racing Products.
Rally Tire is owned and operated by racers whose goal is to offer top quality racing products at reasonable prices. They hand pick and test all products to make sure only the best are made available for their customers.
Rally Tire can be found on the web at www.rally-tire.com
Photo: Mat Janiak | World Rally Sport
Thanks to Subenet for the feature!
FROM THE PARTS BIN TO THE PODIUM
AT THE OREGON TRAIL RALLY RAMANA LAGEMANN HOPES TO REPRISE HIS RECENT WINNING PERFORMANCE – MINUS A SHOWER KNOB.
By David Gee
Quick question for you. How many parts are in a rally car? 2,000, 10,000, 20,000, or more? Well it depends if you count every nut and bolt and weld, and whether a CV joint, a fuel pump or an emissions computer is considered a single part each, or multiple parts. The quick answer we can all agree on however, is a lot.
Okay, now, how many of those "parts" are available at your local hardware store? Maybe the previously mentioned nut or bolt, electrical tape and the like, but this time the answer we can all agree to is not a lot. Right?
Not so if you are Ramana Lagemann and his upstart Rally-Tire.com Super ProductionSubaru team. A last-minute, pre-Olympus Rallyrun to the Ace Hardware store in Ocean Shores, Washington, resulted in $200 worth of parts that took them all the way to the SP class win and a 5th place overall finish. Those parts included a shiny new crystal-look shower knob that took its improvised place on top of the Subaru's gear shifter.
"We were supposed to have a Mitsubishi Evo coming over from Europe, but it got held up in customs," said Lagemann, who first burst on the professional rally scene eight years ago as a Subaru factory driver at the age of 22. "So team owner Burak Tuglu organized a back-up Subaru, which is a solid car, but it was a little rough around the edges. It was leaking oil, it died on us twice on the way to the first stage, but somehow we started the rally and about three major issues fixed themselves. The shower knob, though, was a stroke of genius, and our finish was better than we could have expected all things considered."
Lagemann's Olympus Rally co-driver Chrissie Beavis isn't available for the upcoming Oregon Trail Rally, so taking her place in the right seat will be rally veteran Scott Putnam. He is fresh off a decisive Desert Storm RallyStorm overall victory with former factory driver Lauchlin O'Sullivan.
"For me this is an interesting event because back in 2002 when I was co-driving for Doug Havir, who now owns Rally America, we were running as the only stateside commercial customer for Prodrive," Putnam explains. "Ramana and his co-driver, Michael Kidd, were in a Prodrive Subaru as part of the Subaru factory effort, and since I was brand spanking new to the sport they both mentored me a bit and took me under their wing. Now to go full circle on a way and actually be sitting next to Ramana in the right hand seat is quite a thrill."
The thrills will begin in Portland Friday night at 7:03 p.m. with the first stage of the Oregon Trail Rally. Before the first clutch is dropped and the cars are launched though, there will be a recce on Thursday for the drivers and co-drivers to get to know the stages, and in the case of Lagemann and Putnam, each other.
"We'll be trying to accomplish two things," stated Putnam in his methodical manner. "The first is the actual reconnaissance of the roads of course. The second is figuring out the nuances in terms of what information Ramana wants and how he wants it delivered. At Friday night's first stages we'll find some more things out about one another, Saturday morning we'll make some adjustments, and then I expect that by Saturday afternoon we'll be in a groove."
"We'll be back in the same Subaru we had at Olympus," continued Lagemann, whose recent performance was even more phenomenal given he hadn't been in a rally car for over two years. "The engine's been rebuilt though, and we're confident Burak and his crew will have the car in tip-top shape and I think we'll perform to a pretty high standard again."
Certainly the Team Rally Tire crew can tidy things up in the 2.5-litre production Subaru's engine compartment a bit, but with a 34mm turbo restrictor in place (a turbo restrictor is essentially a tube fitted directly on the turbocharger's air intake that reduces the turbine's air intake flow and, consequently, its output) the team won't be able to get the horsepower up to Open class levels by any stretch.
"Yes, you are down in torque that last 10-percent or so in the Super Production cars versus the Open class," Lagemann said. "The good thing though about these cars is they are so great from the factory you can put good brakes and good suspension in them and it doesn't take much to make it into a pretty fast rally car. It's just committing to those fast corners that's difficult sometimes in the SP cars. The 4s & 5s you really need to have confidence that your car is going to hold your corner if you want to commit to driving it as fast as you can."
At Olympus, Lagemann and Beavis were pretty close to the times posted by Open class competitors such as overall winner Travis Pastrana in the twisty stages, and Lagemann is hoping for a repeat performance on the volcanic rock-strewn logging trails in Oregon.
"Oregon Trail it's always very challenging and very technical. Car setup and tire choice is particularly important. This is one of those rallies where an underpowered car can shine a little bit more. If you have a car that you feel is predictable and turns in well and maintains a good line through corners, you can really exploit the car and use the roads to your advantage. There are a lot of cambered and crowned sections that can catch you out, but that's where experience can come into play."
There is plenty of experience for the Team Rally Tire outside the car as well. Team owner Burak Tuglu grew up rallying in Europe, and has over 20 years of experience as a rally driver. He is glad to turn over the driving chores however to someone with the pedigree of Ramana Lagemann, and says he can't think of anyone better to be out there promoting his rally performance products business.
"I met Ramana some time ago and I never had any doubts he could jump into any car on any given day and be successful," said Tuglu enthusiastically. "He is very focused and we are just really excited about being out there in the Rally America series and doing what we can to promote this great spot and put on a good show for the fans."
One of the things the team is focused, on believe it or not since they didn't compete in the first two events, is the Rally America Super Production Championship.
"Travis Hanson and Timothy Rooney, who are currently one and two in the Super Production standings respectively, have done a great job," conceded Lagemann. "It will be tough to overcome their head start, but our goal is to try and catch them. I am optimistic right now and have rediscovered how much I love this sport. I am just super excited about Oregon Trail and the rest of the Rally America season."
And he's also excited, no doubt, that the only time he will be using a shower knob this weekend will be in the bathroom back at his hotel.
---
---
---